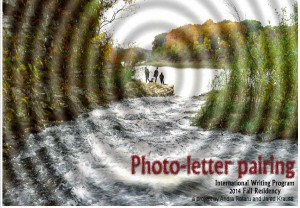 "Photo-letter pairing" is a project made by Andra Rotaru in collaboration with Jared Krauss as part of the 2nd Annual Outreach and Engagement Fellowship, an additional International Writing Program fellowship that is focused on cultivating public outreach and artistic collaborations. The project functions as a connection between the IWP Fall Residents, the local literary community, and the diverse citizenry of Iowa City.
More details here: http://iwp.uiowa.edu/shse/2015-02-27/andra-rotarus-photo-letter-pairing-project
IWP writers involved in "Photo-letter pairing" project:
Abdullah AL WESALI, Boaz GAON, Andra ROTARU, Ali Cobby ECKERMANN, Daren KAMALI, Mujib MEHRDAD, Omar PÉREZ, Sabah SANHOURI, Enrique SERRANO, Ahmed SHAFIE, Franca TREUR, TANG Siu Wa.